BRICS Outlines Economic Cooperation Strategy at Ufa Summit
10 July 2015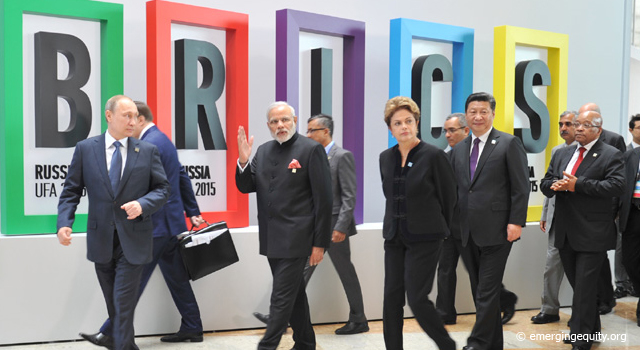 Prime Minister Narendra Modi outlined a 10-point program for future cooperation, 'Das Kadam', proposed during his address at the BRICS – Brazil, Russia, India, China and South Africa – plenary at the 7th summit in Ufa, Russia. The program included a trade fair, railway research center, and digital initiative, among others. The Economic Cooperation Strategy was also adopted by the world's five growing economies at the Summit.
The BRICS Economic Cooperation Strategy provides a comprehensive framework for easier trade between the BRICS developing markets and introduces new areas of cooperation in trade, economic affairs, and connectivity. A Contingency Reserve Arrangement to facilitate intra-group trade in members' local currencies and help stabilize BRICS economies will soon be considered.
The five countries also signed an agreement creating a joint BRICS website to act as virtual secretariat of the group. Their Central Banks further signed cooperation agreements with the New Development Bank (NDB). The NDB will be a powerful instrument for financing infrastructure investment and sustainable development projects in BRICS, emerging market economies, and other developing countries.
India will host the BRICS summit in 2016. 
Related Links:
Ufa summit: BRICS nations to chart out common economic strategy for trade
Ten Steps for the Future: PM Narendra Modi's 10-point initiative for BRICS nations