Bhutan and Nepal Prepare to Sign the Bilateral Trade Agreement
20 June 2022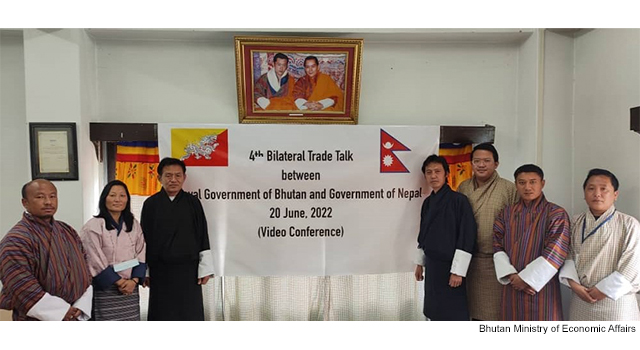 The Governments of Bhutan and Nepal are expediting the process to sign the bilateral trade agreement. At the fourth bilateral trade talks held on 20 June 2022 via video conference, the meeting finalized the Bilateral Trade Agreement and its Protocol and the draft text on the Rules of Origin. The press release from the Department of Trade of the Government of Bhutan noted that the two countries hope to sign the agreement in three months. The trade agreement aims to promote and strengthen trade and commerce.
Bhutan and Nepal agreed to revise the list of goods for concessions. The updates will be shared by both countries. Both sides committed to expedite the process and aim toward signing the trade agreement within the next three months.
In the region, Bhutan has a trade agreement with India. It recently signed a trade agreement with Bangladesh in December 2021. Nepal has signed bilateral trade agreements and treaties with India, Bangladesh, and Sri Lanka. Nepal also has a bilateral preferential treatment arrangement with India.
Bhutan exports to Nepal include gypsum, coal, heavy equipment, boring machinery, juice and industrial equipment. Nepal is Bhutan's top 4 export destination. Nepal exports to Bhutan include iron rods and alloy of aluminum, transformers, snacks, soap, furniture, woolen carpet, farm products, jute bags and cooking appliances. Bhutan ranks 20th among Nepal's export destinations.
Mr. Sonam Tenzin, Director General, Department of Trade of the Government of Bhutan, and Mr. Narayan Prasad Regmi, Joint Secretary, Ministry of Industry, Commerce and Supplies of the Government of Nepal, led the delegations.
Related links:
Bhutan and Nepal to sign bilateral trade agreement