India, Maldives Sign Agreements/MoUs Boosting Bilateral Cooperation
7 June 2019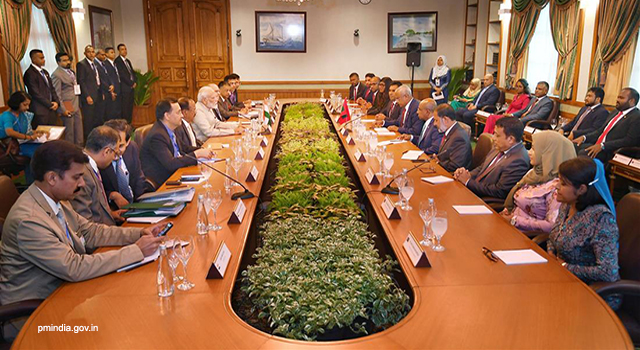 India Prime Minister Narendra Modi and Maldives President Ibrahim Mohamed Solih met in Male, Maldives on 8 June 2019. The two leaders held discussions on boosting bilateral ties between the two countries—a one-on-one talk followed by delegation-level talks. In the meeting, Prime Minister Modi and President Solih reiterated their strong commitment to further strengthening and invigorating the traditionally strong and friendly relations between India and the Maldives.
Mr. Raveesh Kumar, Spokesperson, External Affairs Ministry of the Government of India, described the discussions as warm and friendly, and focused on further deepening the special relationship between the two countries. Six agreements and memorandum of understanding (MoU) were signed, which expands India and Maldives' cooperation across sectors.
The signed agreements/MOUs are
MoU for Cooperation in the Field of Hydrography between the Indian Navy and Maldives National Defense Force
MoU on Cooperation in the field of Health between the Government of India and the Government of Maldives
MoU for the Establishment of Passenger and Cargo Services by Sea between the Ministry of Shipping of the Government of India and the Ministry of Transport and Civil Aviation of the Government of Maldives
MoU for Cooperation in Customs Capacity Building between the Central Board of Indirect Taxes and Customs of India and the Maldives Customs Service
MoU between National Center for Good Governance, Department of Administrative Reforms and Public Grievances and Maldives Civil Service Commission on Training and Capacity Building Program for Maldivian Civil Servants
Technical Agreement on Sharing White Shipping Information between the Indian Navy and the Maldives National Defense Force
President Solih underlined his government's "India-First Policy." He pledged his Government's full support toward deepening the multifaceted, mutually beneficial partnership with India.
Prime Minister Modi stressed the high importance that India attaches to its relationship with Maldives. He reiterated his determination to work together with Maldives to realize his vision of inclusive development.
This trip to Maldives was Prime Minister Modi's first state visit upon his re-election as Prime Minister. Maldives Vice President Faisal Naseem, Minister of Foreign Affairs Abdulla Shahid, former President Maumoon Abdul Gayoom, former Speaker Qasim Ibrahim, and Minister of Home Affairs Imran Abdullah also called on Prime Minister Modi separately.
Related Links