Bangladesh SASEC Chattogram-Cox's Bazar Railway Project Gets Tranche 2 Financing
23 May 2019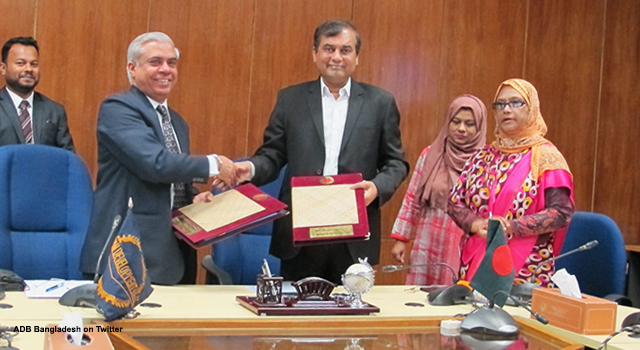 The Asian Development Bank (ADB) and the Government of Bangladesh signed an agreement for Tranche 2 financing of the Bangladesh: South Asia Subregional Economic Cooperation (SASEC) Chittagong (Chattogram)-Cox's Bazar Railway Project, Phase 1. The $400 million loan support from ADB forms the second part of the $1.5 billion ADB railway project loan. Tranche 2 will be complemented with $50 million financing from the Government of Bangladesh.
Mr. Manmohan Parkash, Country Director, Bangladesh Resident Mission, ADB, and Mr. Monowar Ahmed, Secretary, Economic Relations Division of the Government of Bangladesh, signed the agreement on behalf of ADB and Bangladesh at a ceremony in Dhaka, Bangladesh.
During the signing, Mr. Parkash emphasized ADB's commitment to help Bangladesh develop its railways, to provide a safe, affordable, and environment-friendly transport option. He added that the project is a priority investment under Bangladesh's Seventh Five Year Plan and will open up the under-served areas of Cox's Bazar region by promoting investment, trade, and tourism.
The project will help construct the 102 kilometers (km) Dohazari-Cox's Bazar section of the Chattogram-Cox's Bazar railway corridor in southeastern Bangladesh, and strengthen the capacity of the railway sector in project management and implementation. Connecting the Cox's Bazar district to Bangladesh's railway network will help accelerate development of Cox's Bazar into a major tourist destination, and facilitate access of the population and products to subregional markets and trade.
The Chattogram-Cox's Bazar railway corridor is part of the Trans-Asia Railway network, and is in line with planned developments in the Dhaka–Chattogram–Cox's Bazar–Myanmar border corridor. The project was endorsed by the SASEC trade facilitation and transport working group meeting held in Tokyo on 26 November 2015.
Related Links: