Thirteenth Informal Meeting of the SAARC Finance Ministers Held in Fiji
2 May 2019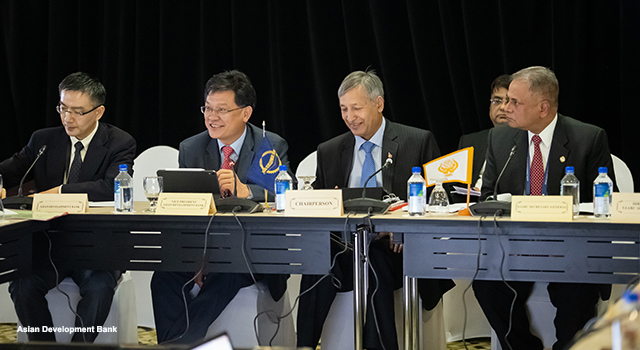 The Thirteenth Informal Meeting of the South Asian Association for Regional Cooperation (SAARC) Finance Ministers was held in Nadi, Fiji on 2 May 2019 on the sidelines of the 52nd Asian Development Bank (ADB) Annual General Meeting. Mr. Shixin Chen, Vice President for Operations 1, ADB, delivered opening remarks. SAARC member states include Afghanistan, Bangladesh, Bhutan, India, Pakistan, Nepal, Maldives and Sri Lanka.
In his speech, Mr. Chen highlighted participation of SAARC member countries in ADB's regional cooperation and integration programs, the South Asia Subregional Economic Cooperation (SASEC) and the Central Asia Regional Economic Cooperation (CAREC) programs. He expressed hopes of continuing the implementation and updates of the SASEC operational plan through initiatives in transport, energy, and trade facilitation, and pressed upon the need for the operational plan to support the goal of the SASEC Vision. Mr. Chen also discussed the importance of financial inclusion for the region, and the programs that ADB is supporting in this area. Financial inclusion is a potent weapon for fighting inequality and poverty, especially in rural areas, according to Mr. Chen. South Asia's poverty rate is at 12.4%, higher than the global average of 10%. Read his full speech.
Mr. Amjad Hussain B. Sial, Secretary General, SAARC, also addressed the meeting. In his speech, he emphasized the significance of financial inclusion for the region, which is in line with the increasing emphasis on regional economic and financial integration. He recalled that SAARC member states reiterated their commitment to achieving the goal of the South Asian Economic Union in a phased and planned manner through creation of a Free Trade Area, a Customs Union, a Common Market, and a Common Economic and Monetary Union in the 18th SAARC Summit. He added that mere financial inclusion may not be enough to uplift the welfare of the people of the region. "In order to achieve this objective, it is essential to work together towards attaining sustainable growth and inclusive development, along with meaningful financial inclusion," said the SAARC Secretary General.
Related Links: