Third Nepal-Bangladesh Business Forum Emphasize Expanding Multimodal Connectivity
27 March 2019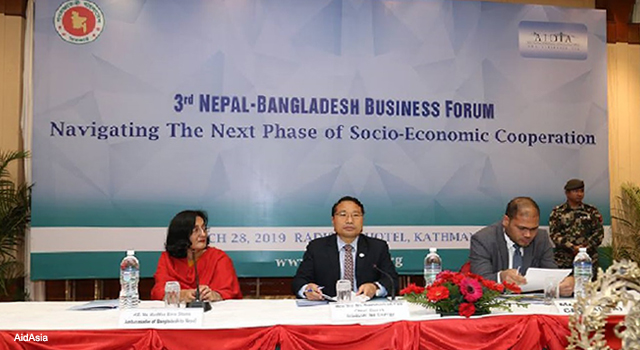 The Asian Institute of Diplomacy and International Affairs and the Embassy of Bangladesh in Nepal jointly organized the third Nepal-Bangladesh Business Forum on 28-29 March 2019 in Kathmandu, Nepal. The Forum, with the theme "Navigating the Next Phase of Socioeconomic Cooperation," held discussions focused on (i) expanding multimodal connectivity for mutual economic growth, and (ii) strong media cooperation for enhancing bilateral ties.
In his inaugural address, Mr. Barshaman Pun Ananta, Minister of Energy, Water Resources, and Irrigation of the Government of Nepal remarked that the Memorandum of Understandings related to energy exchange between Nepal and Bangladesh have opened the huge Bangladesh market to hydropower export from Nepal.
Ms. Mashfee Binte Shams, Ambassador of Bangladesh to Nepal, underlined Bangladesh's readiness to work closely with Nepal on hydropower development and energy trade. Working together will be fruitful for both countries who are going through social, economic, and cultural transformation.
The session on expanding multimodal connectivity:
Stressed the importance of building mutual trust for enhancing bilateral transport, transit, and trade, as noted by Mr. Madhusudan Adhikari, Secretary, Ministry of Physical Infrastructure and Transport, Government of Nepal;
Emphasized that connectivity is key to prosperity. Dr. Golam Rasul, Chief Economist of International Center for Integrated Mountain Development, highlighted that effective transportation infrastructure can improve the "minimal" trade volume between Nepal and Bangladesh, boosting bilateral trade. He added that inland waterways connectivity between Nepal-India and Bangladesh will further promote trade and commerce. He also noted that Nepal should benefit from Mongla port;
Stressed institutional and software connectivity, alongside physical connectivity. Dr. Surya Raj Acharya, Spokesperson, Bibeksheel Sajha and infrastructure expert, underlined that institutions should be supported with institutional reform. He added that trilateral cooperation between Nepal-India and Bangladesh can be beneficial;
Commended progress in road connectivity infrastructure between Nepal and Bangladesh. Mr. Keshab Sharma, Deputy Director General, Department of Road, Government of Nepal said that utilization of Mongla and Chittagong port should be taken forward;
Reminded participants that connectivity is the heart and life of economic growth. Mr. Laxman Bahadur Basnet, Former Executive Director, Nepal Intermodal Transport Development Board, also urged facilitating border procedures for bilateral trade growth.
Read the full news release.
Related Links: