Components of the SASEC Road Connectivity Project in Bhutan Nears Completion
8 March 2019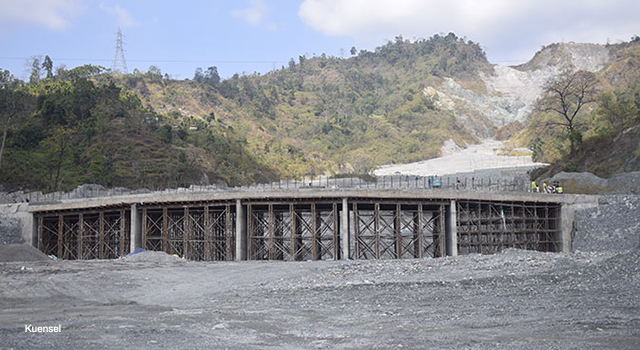 Improvements for the Pasakha bypass road in Bhutan are nearing completion, reports Kuensel. These include the (i) development of a 1.3 kilometer road, (ii) a gabion wall in Baunijhora stream, and (iii) a 123-meter pre-stressed concrete girder bridge over the Bhalujhora river. The Asian Development Bank is providing 81% of the financing for these projects under the South Asia Subregional Economic Cooperation (SASEC) Road Connectivity Project. The Government will shoulder 19% of the cost.
The projects are expected to be completed by May, according to the Department of Roads (DoR) of the Government of Bhutan. DoR Project Manager in Phuentsholing, Tshewang, remarked that everything is going according to plan. He provided the following updates
The 1.3 kilometer road is 82% finished, including base course works. Next phase would be black-topping;
The gabion wall, the largest of the three projects, is 94% complete; and
The 123-meter pre-stressed concrete girder bridge is progressing at 75%.
The SASEC Road Connectivity Project aims to provide direct access between the Pasakha industrial estate and India, construct a mini dry port in Phuentsholing, and build a bypass road between the mini dry port and national highway. It is expected to ease traffic congestion in Phuentsholing, and reduce transport costs for freight and increase the movement of goods, improving Bhutan's trade competitiveness.
Related Links: