Sixth SASEC Customs Subgroup Meeting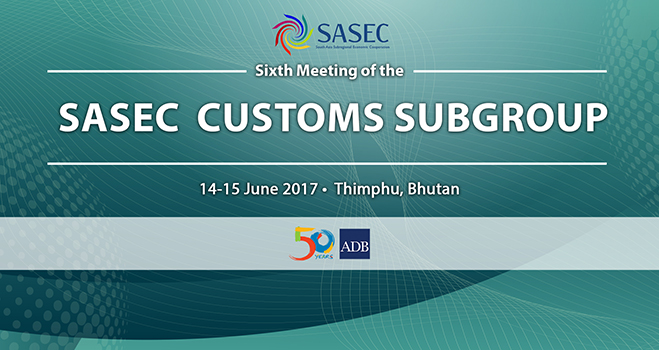 The Sixth SASEC Customs Subgroup Meeting (SCS-6), to be held on 15 June 2017 in Thimphu, Bhutan, is in follow up to the Fifth SCS meeting, held in May 2016, in Male, Maldives. The SCS-6 Meeting will continue discussing subregional and national projects to ensure seamless implementation and achievement of modernized and harmonized Customs operations in the SASEC subregion.
Discussions in the SCS-6 Meeting will include:
Signing of a Memorandum of Intent for capacity-building initiatives between the SASEC member countries and the National Academy of Customs, Excise and Narcotics of India;
Implementation status and next steps of subregional and national projects in the SCS Work Plan 2014-2018;
Way forward for Customs-related priority projects in the SASEC Operational Plan 2016-2025;
Electronic Cargo Tracking System initiatives within the context of SASEC transport facilitation activities;
Proposal for a SASEC Study on Coordinated Development of Border Infrastructure; and
Updates on SASEC capacity-building activities.
A Learning Event focused on priority capacity-building needs related to the implementation of the WTO TFA, including identified WTO TFA gaps in SASEC countries, will be held on 14 June.
Participants of the SCS-6 will include SASEC Customs officials; representatives of Korea Customs Service, the World Customs Organization, and the World Trade Organization; and staff and consultants of the Asian Development Bank.